The 2014 Honda CR-V is One of the Best Crossovers Around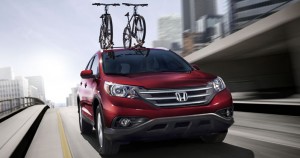 If you're in the market for a new vehicle in the Tri-State area, there's a good chance you're looking at the 2014 Honda CR-V. It's available now at a Tri-State Honda Dealer near you, and according to a recent Honda press release, not only is the CR-V showing improved sales, but it is the most popular SUV with a year-to-date gain of 6.1 percent (its best 6-month sales performance yet!).
Honda Sales Show a Successful Crossover
With June 2014 Honda sales of 117,817 and year-to-date sales reaching 739,436 units, it's clear that this is a good year for the Honda brand, particularly popular models like the Civic, Accord, and CR-V.
We think that at least part of the popularity of these vehicles comes form Honda's incredible standard features package, which includes Bluetooth, a touchscreen infotainment system, a rearview camera, and more all as standard on the LX trim levels of the Accord, Civic, CR-V, and more.
If that's not enough, the 2014 Honda CR-V 2WD LX earns an EPA-estimated 31 mpg on the highway,* making it one of the smartest choices for a fuel efficient crossover. With room for up to five and an easily convertible rear seat for cargo storage when you need it, we think the CR-V is one of the most impressive models on the road today.
"Despite an easing of the pace in June, the larger sales trend throughout the industry remains robust," said Jeff Conrad, Honda division senior vice president and general manager. "Our core products remain strong and though we're still filling its supply pipeline, the new 2015 Fit is selling very well and we expect it to add yet another strong pillar to Honda sales in the near future."
Test Drive a CR-V Today
If you want to see just what it is that has made the 2014 Honda CR-V one of the most popular vehicles around, visit a Tri-State Honda Dealer near you and take one for a test drive. Though we won't be to blame if you have a tough time giving us the keys back.
Tri-State Honda Dealers includes Bill Cole Honda, Freedom Honda, Glockner Honda, Larry Simmons Honda, Lester Raines Honda, Moses Honda, and Taylor Honda.