Honda in Motorsports: Racing at Heart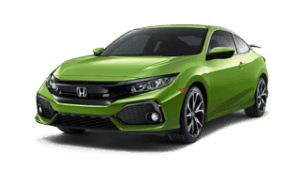 Honda's new ad campaign demonstrates the brand's roots in motorsports competitions and the engineering, design, and inspiration that goes into every model they produce, from the Civic Si to the Ridgeline, with the spirit of racing at its heart. Honda's involvement in the Verizon IndyCar Series, Red Bull Global Rallycross, and desert truck racing have all served as platforms of innovation that ultimately show up on the showroom floor of every Tri-State Honda Dealer.
The Ridgeline
The 2017 Honda Ridgeline is a pickup truck with a whole lot of capability and power. Thanks in part to its desert racing version that honed its rugged stability and powerful performance in order to take on the Baja Desert, the Ridgeline retains that same fighting spirit, as ready for the road as it is for off-roading. And with a V6 engine that produces up to 280 hp, the Ridgeline is a force to be reckoned with.
Civic Si Coupe
The Civic Si that is participating in the Red Bull Global Rallycross is a fierce and bold supercar, readying for the most rigorous and extreme aspects of the competition that even includes a 70-foot jump. This Civic Si will perform with more than 600 hp and will go from 0 to 60 in just 1.9 seconds. Drivers can get in on this spectacular performance with their own Civic Si and take that track-inspired spirit to conquer every day with plenty of horsepower.
Civic Type R
The Civic Type R outperformed its own record last year by an astonishing seven seconds to claim the title of the fastest FWD lap around the Nürburgring track. Part of what it means to have racing at heart is setting the bar high and exceeding all expectations, and Honda has proved that over and over again. And when it came time for the 101st Indianapolis 500, veteran driver Takuma Sato, captured the win for Honda.
Test Drive Today
Visit your nearest Tri-State Honda Dealers location to check out the 2017 Honda Ridgeline, the Civic Si Coupe, and all of Honda's models to see that racing heart firsthand. Contact us for more information and to explore current offers and financing options.