Honda Focuses on Electric Vehicles as It Looks Toward the Future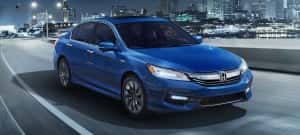 Honda has long been recognized as one of the most innovative, forward-thinking automobile manufacturers in the world, and now, they're doing more than ever before to realize the future in the present. Honda is currently in the early stages of a massive electrification initiative, by which they seek to reduce emissions and transform driving into a more affordable activity. Find out if a hybrid or electric car is right for your lifestyle by exploring Honda's current and near-future offerings below!
All-New Innovations from Honda
2018 is already shaping up to be a watershed year for electricity-powered vehicles. Recently, Honda revealed that an all-new hybrid vehicle will be unveiled next year. They've also suggested that they will begin to outfit their light-truck lineup with two-motor hybrid systems over the same time frame. This wide-ranging segment covers the Ridgeline pickup, the Odyssey minivan, and SUVs including the HR-V, the CR-V, and the Pilot. Such a two-motor hybrid system is already available in vehicles including the 2017 Honda Accord Hybrid, which uses a combination of electric and gasoline power to get up to an EPA-estimated 49 mpg in the city!* Currently, Honda drivers can also enjoy hybrid efficiency in the Honda CR-Z, or they can choose to go fully electric with the Honda Clarity Fuel Cell.
Perhaps the most impressive aspect of Honda's electrification initiative is the scale of their plans. Honda has announced that, over the next two years, more than half of their new models will offer electric power. What's more, by the time 2030 rolls around, Honda's leaders hope that at least two-thirds of their sales will come from these electrified vehicles! At the end of the day, Honda seeks to protect our environment while improving the options available to their loyal drivers. They project that the CO2 emissions produced by their vehicles will total just 50% of their 2000 levels by the year 2050.
Explore Your Options with Honda!
Curious drivers should remain vigilant for any new developments in the world of electric-powered automobiles, but for many, the future has already arrived! Tri-State area drivers can experience any of Honda's currently available Hybrid models by scheduling a test drive at a Tri-State Honda Dealer today!