2020 Honda CR-V Hybrid Coming Soon

As observed by Art St. Cyr, Vice President, Automobile Operations, American Honda Motor Co., Inc.: "Over five generations, CR-V has steadily evolved and brought a whole generation of Honda buyers along with it.". It's almost reached the 5-million-mark for U.S. sales, and it's set to appeal to a whole new generation of drivers once the 2020 Honda CR-V Hybrid hits showrooms.
Read on to explore:
Honda CR-V Hybrid Powertrain
Honda CR-V Hybrid Styling
Honda CR-V Hybrid Powertrain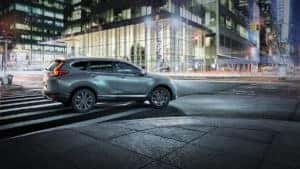 Honda drivers should be excited to learn that the upcoming Honda CR-V Hybrid will use the same Two-Motor hybrid electric system currently found in the popular Honda Accord Hybrid. Combining a 2.0L 16-valve DOHC Atkinson Cycle engine, hybrid battery, and two electric motors, it should command up to a healthy 212 hp combined.
An Intelligent Power Unit (IPU) will distribute power between all four wheels, and Honda has already boasted a 50% increase in EPA city fuel economy rating compared with the standard Honda CR-V. Since this will be the first application of All-Wheel Drive to the Two-Motor system within America, you should expect the same level of capability regardless of whether you're driving a hybrid or a standard model.
2020 Honda CR-V Hybrid Styling
As stated by Car and Driver: "Both hybrids and nonhybrids benefit from a different center console that's said to be more spacious". The interior of each also offers a wide selection of tech features, and the hybrid sets itself apart from the outside by adding:
Hybrid Badging
Distinctive Blue Honda Logo on the Grill
Unique Rear Bumper (with Touring Trims)
Hidden Tailpipe
New colors available with both the Honda CR-V and Honda CR-V Hybrid will include:
Sonic Gray Pearl
Radiant Red Metallic
Honda Sets New Standards for Efficiency Engineering with 2020 Honda CR-V Changes
Vehicles from the Honda hybrid lineup offer staggeringly efficient drives without sacrificing engaging driving dynamics, and you can check out current models by visiting your local Tri-State Honda showroom. To find out more about anything from CR-V trim levels to current special offers, don't hesitate to contact us today.