Can You Get AWD in the 2018 Toyota C-HR?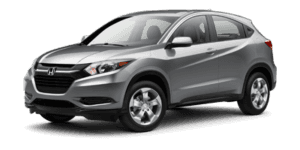 Tri-State area drivers want to know if they can find everything they're after in the new 2018 Toyota C-HR, and they have plenty of reasons to be skeptical. In fact, folks who opt for the C-HR won't be able to access all-wheel drive at all—no matter which trim level they choose or how many upgrades they apply. The writers at Motor Trend have made the argument that the new C-HR is a "tough sell," while stating that its powertrain is "undersized and overstressed." The same can certainly not be said for comparable Honda vehicles like the 2017 Honda HR-V, which offers AWD as an optional upgrade even in its baseline LX trim! Find out why more and more of your friends and neighbors are passing over the lackluster Toyota C-HR and choosing a subcompact SUV that they can depend on!
Advantages of the 2017 Honda HR-V
Everyone knows how hard it can be to make it through the Detroit winter without reliable all-wheel drive capability, but with that being said, AWD usually isn't the only attribute that drivers look for in a vehicle. Still, those who expect the Toyota's other capabilities to compensate them for the loss of AWD will almost certainly end up disappointed.
The HR-V—even with AWD—is available at a lower price than the C-HR, and the former also comes equipped with desirable interior features like underseat storage, an MP3 player, and stereo anti-theft protection. In this competition, only the HR-V comes standard with a 60/40-split rear Magic Seat, and it should come as no surprise that this Honda dwarfs the C-HR in terms of cargo volume and passenger space.
Test Drive the HR-V Today!
When compared to the 2018 Toyota C-HR, the 2017 Honda HR-V AWD comes off looking like a real winner. Folks in the Tri-State area can take it for a test drive by getting in touch with one of our knowledgeable representatives. Find your local Tri-State Honda Dealer today, and be sure to check out our financing options and current offers to make the most of your next visit!