Introducing the 2018 Honda Ridgeline

The 2018 Honda Ridgeline is the perfect balance between a tough pickup, ready for any job, and a stylish and comfortable vehicle with a long list of features and technology. Winner of the North American Truck of the Year in 2017, the Ridgeline is back with a 2018 model that is better than ever. And it's not a moment too soon—with features that make the Ridgeline the perfect companion for tailgating, you'll be ready for some game day fun.
A Look Under the Hood
Powerful, capable, and versatile, the 2018 Ridgeline has a 3.5 V6 engine under the hood and is paired with a 6-speed automatic transmission. The Ridgeline will get up to 282 hp and 262 lb-ft of torque and has a commanding and sturdy presence on the road. The Ridgeline offers trims in both 2WD and AWD versions—both of which earn class-leading fuel economy. 2WD models earn an EPA-estimated 19 city / 26 highway / 22 combined mpg,* while AWD models get an EPA-estimated 18 city / 25 highway / 21 combined mpg.*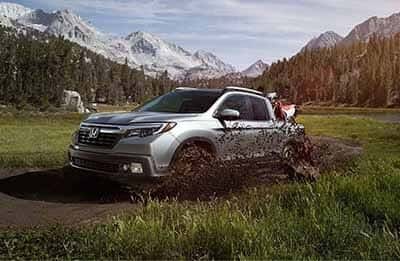 New for 2018
The 2018 Honda Ridgeline offers some new and exciting updates and changes, while keeping the successful aspects of the 2017 model. The 2018 Ridgeline offers more streamlined trim levels, with nine different models instead of last year's 12. Each level offers drivers something different in terms of comfort, convenience, and technology, so drivers can more easily select the one that is right for them. Drivers who appreciate extra styling details will want to check out the Sport trim, which adds more exterior color choices for 2018.
Returning Features
The 2018 Honda Ridgeline sees a return of features that made a splash in the 2017 model and make it the ultimate tailgating truck. An in-bed lockable trunk is equipped with a drain plug, so throw in some ice and your favorite drinks and you have a built-in ice chest that's simple to clean up. The bed also can come equipped with a stereo system and a power outlet, so you can crank up the music or commentary and plug in your flat-screen TV.
Test Drive Today
Find out more about the 2018 Honda Ridgeline by visiting your nearest Tri-State Honda Dealer today. Contact us with any questions, explore current offers, and check out financing options. And stop by for some firsthand experience behind the wheel with a test drive today!