How Does the Camry Hybrid Fuel Economy Fare Against the Accord Hybrid?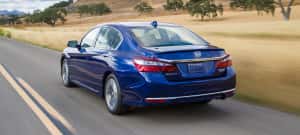 Hybrid vehicles can offer drivers all the familiar and expected luxuries of conventional vehicles, but hybrids offer the added bonus of exceptional efficiency. This marriage of comfort and eco-consciousness could explain why drivers have begun flocking toward hybrid cars lately. But with so many options, it can be a little difficult to make a decision about your next vehicle. So watch us compare two of the best on the road today, the 2017 Honda Accord Hybrid and the 2017 Toyota Camry Hybrid, and see which one is the right pick for your needs!
Efficient
With an EPA-estimated 49 mpg city and 47 mpg highway,* the 2017 Honda Accord Hybrid dominates this category. The 2017 Toyota Camry Hybrid offers a respectable estimated 42 mpg city and 38 mpg highway, but it can't quite catch up to the Accord Hybrid. Both do offer drivers a fuel economy that runs circles around that of most conventional vehicles, but the Accord is the clear winner in this comparison.
Super Spacious
The 2017 Toyota Camry Hybrid similarly finds itself falling behind in another key category: space. With a maximum cargo volume of 13.1 cubic feet, 41.6 inches of front legroom, and 58 inches of front shoulder room, the Camry features a spacious and roomy interior cabin. But the Accord Hybrid is just a little bit roomier, offering drivers 13.7 cubic feet of maximum cargo space, 42.2 inches of front legroom, and 58.9 inches of front shoulder room. While that may not seem like a huge difference, drivers will definitely appreciate that extra inch or two.
The 2017 Honda Accord Hybrid Is Waiting
There are plenty more ways the Accord Hybrid outshines the Camry Hybrid; for example, the Accord Hybrid offers better safety ratings, a more powerful drivetrain configuration, and more standard features. But the best way to see what the Accord Hybrid has to offer is in person. Visit your nearest Tri-State Honda Dealers location for a test drive to see this remarkable vehicle in action. You can also contact us online to learn more about financing a vehicle or our current promotions.