The 2017 North American Truck of the Year Is the 2017 Honda Ridgeline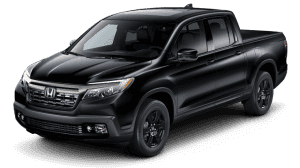 There's no other pickup truck like the 2017 Honda Ridgeline. People across the Tri-State area have begun to take notice of its unique features, high safety ratings, and affordable pricing, and now, the North American–made Ridgeline is finally getting the formal recognition it deserves. Thanks to the glowing reviews of drivers like you, this year's Honda Ridgeline has just been recognized as the 2017 North American Truck of the Year. No matter what you're looking for in your next pickup, you're sure to be satisfied by the Ridgeline's offerings. In many ways, this pickup truck is leading the way forward for its entire segment, but that doesn't mean it's out of reach for ordinary drivers. The Ridgeline RT 2WD is priced at just $29,475 MSRP!*
A Truly Unique Pickup Truck
The 2017 Honda Ridgeline combines the best aspects of the pickup segment with many innovative design features that similar vehicles lack. Of course, every Ridgeline comes standard with a powerful, fuel-efficient drivetrain that will never let you down. What's more, the Ridgeline makes cargo transport easy by offering a dual-action tailgate, a lockable in-bed trunk, and even 60/40-split rear seating! Honda's engineers have upended conventional wisdom by designing the Ridgeline with unit-body construction, which keeps its frame low to the ground and provides superior protection in collisions. On that note, we should also mention that the 2017 Honda Ridgeline is the only pickup that has ever received a designation of Top Safety Pick+ from the Insurance Institute for Highway Safety! To enjoy top-tier safety in your Ridgeline, simply opt for LED headlights and Honda Sensing when you're selecting upgrades. Drivers with long memories may already know that 2017 is the second year that the Ridgeline has been recognized as the North American Truck of the Year. It first received this award in 2006, when the original Ridgeline made its debut on the market.
Get Behind the Wheel
There's plenty more that we could say about the 2017 Honda Ridgeline, but if you really want to know what this vehicle can do, then you'll have to come in for a test drive. Get behind the wheel of the 2017 North American Truck of the Year by visiting a Tri-State Honda Dealer near you today!