The 2017 Honda Ridgeline Was Engineered for Tailgating in the Tri-State Area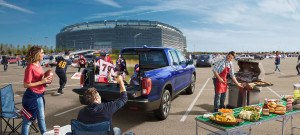 No matter which team you root for, the 2017 Honda Ridgeline is ready for tailgating in Ohio, Kentucky, and West Virginia. Whether you're a fan of the Bengals or the Browns, you know it's the tailgating party that makes sure you have fun at the game, win or lose—and the same goes with your favorite college football team.
With the recent revamp of the Ridgeline, Honda has ensured their new pickup is ready for work and play, featuring a trio of updates that make it the ultimate tailgating truck.
Upgrade Your Tailgating Game
After a break from the market, the 2017 Honda Ridgeline represents the return of one of our favorite vehicles. Engineers looked at the previous generation Ridgeline and made some significant changes, giving it a more traditional look while also updating it for recreational activities. The biggest update? Three features that make the Ridgeline a tailgating machine:
Truck Bed Cooler: The Ridgeline's standard in-bed storage is great for protecting tools and tech gear, but it also features a stopper in the bottom, just like a cooler. Fill it up with ice to keep your drinks cold from tailgating until the final touchdown.
In-Bed Audio: This new stereo system is available for Ridgeline drivers who want 540 watts of power for their tailgating music. Six speaker cones turn the three side walls of the truck bed into speakers for a powerful pre-game or celebration soundtrack. Its waterproof design protects it from the weather and your friends' spilled drinks.
Power Inverter: The available truck bed power inverter brings 400 watts of AC power to the Ridgeline, more than enough to keep a flat-screen going for pre-game entertainment or power a blender for delicious frozen drinks.
If your truck bed is full of tailgating essentials, just lift up the rear seats in the cab and tuck any chips or hamburger buns there until it's time to get your game on for the Browns, the Bengals, or your favorite college team.
Test Drive a Honda
Now that you've seen how the 2017 Honda Ridgeline can improve game day, let us show you how much easier it makes everyday life. Visit a Tri-State Honda Dealer near you today for a test drive, and be sure to let us know who you'll be tailgating for this season.