Interior Space: The 2017 Honda CR-V vs. the Toyota RAV4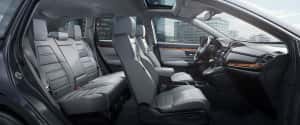 For Tri-State drivers looking for a crossover SUV, there are many important factors to consider—from MSRP to fuel economy to safety ratings. But a spacious and versatile interior is high among the must-haves when it comes to choosing a vehicle that will take you far and wide day in and day out. And not all interiors are created equally. We've compared the inside of the 2017 Toyota RAV4 with the 2017 Honda CR-V. Let's see which vehicle comes out on top.
Passenger Space
The Toyota RAV4 and the Honda CR-V both have seating to accommodate up to five passengers and a rear seat at a 60/40-split that can recline and fold down flat in order to open up more cargo space when you need it. But the CR-V offers more overall passenger space, with an impressive 105.9 cubic feet. The RAV4 is more cramped, measuring at just 101.9 cubic feet.
Cargo Space
As mentioned before, both vehicles have a rear seat that can fold flat to allow for multiple seating and cargo configurations for total versatility inside. But not only does the CR-V offer more passenger space, it also has a larger cargo area at 39.2 cubic feet behind the rear seats and up to 75.8 cubic feet of total cargo space with the rear seats folded down flat. The RAV4 offers much less space, with a cargo area behind the rear seats measuring at 38.4 cubic feet and just 73.4 cubic feet of maximum cargo volume with the rear seats folded down.
Test Drive the CR-V Today
So while it's clear that the CR-V has more going for it over the RAV4 in terms of space inside, that's not its only advantage: It also has the edge in terms of MSRP, fuel economy, and safety ratings. Visit your nearest Tri-State Honda Dealer to find out more about the 2017 Honda CR-V. Contact us to explore current offers and financing options, and come in to sit behind the wheel of this outstanding crossover for a test drive.